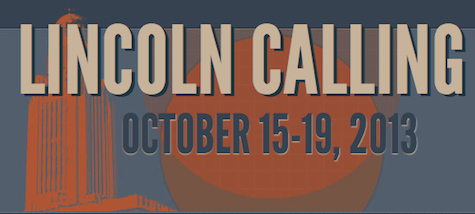 by Tim McMahan, Lazy=i.com
Jeremy Buckley, the guy who runs Lincoln Calling, emailed yesterday to say that his annual 5-day shindig (which takes place Oct. 15-19) is currently accepting band applications at lincolncalling.com.
"Applying doesn't guarantee a slot at the fest, but will let the organizing committee know that the band is interested in being a part of this year's fest," Buckley said. "Lincoln Calling is an annual music festival that takes place in downtown Lincoln at 10 or more venues and showcases 100+ bands and DJs on a local, regional, national and international level. Past performers have included Gillian Welch and David Rawlings, The Hood Internet, Roger Clyne and the Peacemakers, Sea Wolf, Wolfgang Gartner, Laetitia Sadier and The Prids."
He said last year about 150 bands applied. "It definitely helps in getting contact info together and knowing that bands are interested in playing," he said. "We probably accepted about 50 bands that applied last year."
To my knowledge, Lincoln Calling is the only Nebraska-based multi-day music festival that actually pays bands for playing, which is a credit to Mr. Buckley. This year marks the festival's 10th anniversary, so I expect it to be bigger and better and wilder than ever.
* * *
Read Tim McMahan's blog daily at Lazy-i.com — an online music magazine that includes feature interviews, reviews and news. The focus is on the national indie music scene with a special emphasis on the best original bands in the Omaha area. Copyright © 2013 Tim McMahan. All rights reserved.
No Comments »
No comments yet.
RSS feed for comments on this post. TrackBack URL
Leave a comment