by Tim McMahan, Lazy-i.com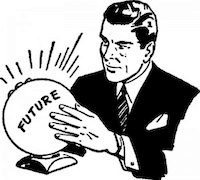 We got through yesterday's gloom and doom, now onto the fun stuff: 2013 Music Predictions: The Lightning Round!
— Forget about hearing new music on the radio. The internet will take its toll once again, forcing all pop radio stations to switch to oldies formats. If you want to hear new pop music, you're going to have to go online.
— A new digital music format will emerge next year that will make mp3 and AAC formats obsolete. The tiny file's audio quality will be so fantastic it will drive music lovers to replace all their old music files and  hasten the demise of CDs as at least one mid-major label will announce next year it no longer will offer new releases in compact disc format.
— Look for a new social app to emerge that musicians and bands will use to promote shows in place of Facebook invitations, which are now more annoying than useful and are generally ignored. Facebook as a whole is becoming the next Myspace failure due to its advertising and privacy stances.
— A new music-based reality competition TV show will debut in 2013, but instead of focusing on performers (like American Idol and The Voice), the show will focus on singer/songwriters. Starting the season with 12, each week one songwriter will be eliminated in head-to-head battle, leaving only one standing. Instead of a record deal, the winning songwriter will get a contract with a top LA-based talent agency (William Morris, CAA, etc.).
— Rolling Stone will follow SPIN and become an online-only music website, while Pitchfork will debut the first issue of its new monthly print publication by year end.
— With the naming of a stellar headliner for 2013, the Maha Music Festival will announce a format change from past years that will involve either an additional night of music or a third stage.
— Meanwhile, MECA will fill the void left by Red Sky's demise with at least two major outdoor concerts at Ameritrade Ball Park and six sell-out-quality shows at CenturyLink Center, including at least one "significant" indie-style band we never thought we'd ever see in Omaha.
— Bands we'll be talking about this time next year: Husker Du, Wilco, Bob Dylan, Led Zeppelin, PJ Harvey, Pavement, My Bloody Valentine, Tom Waits, Lloyd Cole, Matthew Sweet, Liz Phair, Beck, Arcade Fire, David Bowie, Grasshopper Takeover and Bright Eyes.
— Bands we won't be talking about: Green Day, Rolling Stones, Springsteen, Metallica, Lady Gaga, Maroon 5, fun., Ke$ha and Psy.
— All of Aerosmith's problems will be resolved once and for all.
— Local record stores will get some new competition from a music shop that will open in Benson next year that caters to vinyl enthusiasts and musicians. Meanwhile, yet another new record store will open in a strip mall located somewhere west of 120th St.
— Saddle Creek Records will adopt a "damn the torpedoes" business plan and release more full length albums and singles in 2013 than anytime in its history. Expect at least two new bands to join the roster, including one well-known indie music veteran, while at least one long-standing Creek act will jump ship for a major label.
— We'll say goodbye to one of the most promising local bands that will break up despite a label-released album, but we haven't heard the last of the band's frontwoman, who will either join an existing band or form a new combo that will get even more attention.
— Another all-ages venue will open in Omaha in 2013 operated as a non-profit by some familiar faces and catering to the indie music crowd. Expect some high-profile bands and musicians to lend a hand getting the venue off the ground.
— An out-of-this world national performer will play a last-minute "secret show" at either O'Leaver's or Pageturners, making national music news.
— A local performer will be "discovered" by a big-time movie or TV mogul who catches their set while in town visiting a production.
— And finally, it wasn't Bright Eyes, The Faint or Cursive but Icky Blossoms who will finally break the barrier by making their television premier on Saturday Night Live.
You can read all three parts of the 2013 music predictions (except the Bonus Round) in one marathon read in this week's issue of The Reader (on news stands now) or online at The Reader website, right here.
* * *
The first show of the year is tonight at — of all places — House of Loom, headlined by up and comers Pleasure Adapter. The band features Jeff Ankenbauer (ex Shanks, Saudi Arabia) on bass/vocals; Annie Dilocker (ex-Digital Leather) on keys; Ben Allen (Watching the Train Wreck) on guitar and newcomer Joey DeRosa. They debuted last month to raves at Benson's Sweatshop Gallery as part of BFF. Also on tonight's bill are garage rockers Worried Mothers and Dirt. $5, 9 p.m.
* * *
We're getting some entries by not an avalanche, so your odds have never been better of winning a copy of the Lazy-i Best of 2012 sampler CD! Tracks include songs by Gordon, Ember Schrag, The Faint, Simon Joyner, Mere Mortals, McCarthy Trenching, Ariel Pink's Haunted Graffiti, Nicky Da B, Violens, Cat Power, PUJOL, Millions of Boys and lots more. The full track listing is here (scroll to the bottom). To enter the drawing to win a free copy send an email with your name and mailing address to tim.mcmahan@gmail.com. Hurry! Deadline is Jan. 15.
* * *
Read Tim McMahan's blog daily at Lazy-i.com — an online music magazine that includes feature interviews, reviews and news. The focus is on the national indie music scene with a special emphasis on the best original bands in the Omaha area. Copyright © 2013 Tim McMahan. All rights reserved.
No Comments »
No comments yet.
RSS feed for comments on this post. TrackBack URL
Leave a comment