by Tim McMahan, Lazy-i.com
So, the weekend…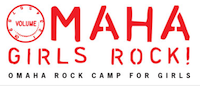 Tonight's big show is a benefit at Slowdown for Omaha Girls Rock. You can read about the program and tonight's show in my column this week in The Reader, or online here at thereader.com. I won't belabor the point that this not only is a worthy cause, it's a great night of entertainment AND it's the conclusion of a contest involving all the bands — Gus & Call, Howard, The Betties and Sun Settings. At the conclusion of each set, the band will perform a new original song written this week centered around the theme "Superstition." The crowd will vote for its favorite, and the winning band will send one Omaha Girls Rocker to camp. All money raised from your $10 ticket will go to the program. The show starts at 9 p.m., I'm not sure if this is on the big stage or in Slowdown Jr. (the website doesn't say, which usually indicates that it's in the big room). See you there.
Also tonight at The Waiting Room, a show that could have been called Omaha Boys Rock, headlined by The Eightyseven and featuring Filter Kings, Noah Sterba & The Cocktails and The Whipkey Three. $7, 9 p.m.
Also tonight, John Klemmensen and the Party headline a show at The Barley Street Tavern with Mike Saklar's Comme Reel, Dirty Fluorescents and the ingenious Nick Carl. $5, 9 p.m.
Saturday night it's Sleigh Bells, Javelin and Elite Gymnastics at The Slowdown. This one has been SOLD OUT for quite a while. Note early 8 p.m. start time.
Also Saturday night, Snake Island is the featured artist for the Guitar Center 1-Year Anniversary show at The Waiting Room. Also on the bill are The Seen, The Curtain Calls and Cordial Spew. The hook: At least one member of each band is a Guitar Center employee. $5, 9 p.m.
One last thing: House of Loom's Friday Afternoon Club continues this afternoon with "Non-DJ DJ" Megan Hunt a.k.a. Princess Lasertron a.k.a. fashion maven and entrepreneur behind Camp. PL will be spinning her favorite goth tracks from 5 to 8 at Loom. Drop by before you head to Slowdown for the ORG event. It's free and fun.
* * *
Read Tim McMahan's blog daily at Lazy-i.com — an online music magazine that includes feature interviews, reviews and news. The focus is on the national indie music scene with a special emphasis on the best original bands in the Omaha area. Copyright © 2012 Tim McMahan. All rights reserved.
No Comments »
No comments yet.
RSS feed for comments on this post. TrackBack URL
Leave a comment