by Tim McMahan, Lazy-i.com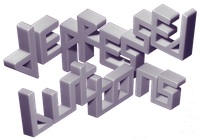 I have never been to House of Loom. Scratch that. I have never been to a Loom event. Scratch that. I have never been to any Omaha "dance" event (Loom, Goo, Gunk).
Nothing against these sorts of comfabs. Nothing but respect for the DJ culture. I just don't dance; at least not outside of wedding receptions and goofing off. Ironic, considering how much I like dance music, electronic or otherwise. But I prefer to enjoy it with my headphones on, dancing in my head, rather than in a club. Hence, why I haven't been to Loom/House of Loom/Goo, etc.
That might change tonight.
House of Loom presents the debut of Depressed Buttons, a.k.a. Jacob Thiele, Todd Fink and Clark Baechle of The Faint creating electronic music to dance to (or whatever you want to do while listening, including just closing your eyes). You read about DB yesterday. Tonight you can see and hear them live. I have been told that House of Loom, located at 1012 So. 10th St., is not a very large space, so if this show attracts fans of the Faint, it could quickly reach capacity. I recommend you arrive early and then drink heavily. The show starts at 10 p.m., though I'm not sure when Depressed Buttons actually gets behind the wheel. BTW, the trio will be a man down as Clark is on the road with Bright Eyes. You'll just have to make due. Hopefully he'll be back for next month's "performance" (tonight is the debut of DB's monthly residence at HoL). Cover is $5. Just added: Guest DJ – D.A.M.B. of DJs Are Not Rockstars. They're not?
Also tonight, local indie band Skypiper has its CD release show tonight at The Waiting Room for their self-titled self-released sophomore effort. Opening is Anniversaire and Minneapolis band Tarlton. $7, 9 p.m.
Meanwhile, over at O'Leaver's, Celeritas and Lonely Estates open for Bazooka Shootout. The usual $5, the usual 9:30 start time.
Tomorrow night's big shoe is the return of Tim Kasher to The Waiting Room. Kasher has been on the road supporting his latest EP release on Saddle Creek Records. Joining him on tour has been Aficionado, who will be opening Saturday night along with local heroes Dim Light. $10, 9 p.m.
Finally, Sunday night Brad Hoshaw, Fine, Fine Automobiles (Landon Hedges of Little Brazil), Justin Lamoureux (of Midwest Dilemma), and Kyle Harvey will be kicking off a new Songwriters Showcase series at Little Italy restaurant Q Consumables, 1228 So. 6th St. Show starts at 7:30 and is free (though you can tip the bands). Find out more about Q Consumables and check out their menu at http://qc.qconsumables.com/.
* * *
Read Tim McMahan's blog daily at Lazy-i.com — an online music magazine that includes feature interviews, reviews and news. The focus is on the national indie music scene with a special emphasis on the best original bands in the Omaha area. Copyright © 2011 Tim McMahan. All rights reserved.
No Comments »
No comments yet.
RSS feed for comments on this post. TrackBack URL
Leave a comment