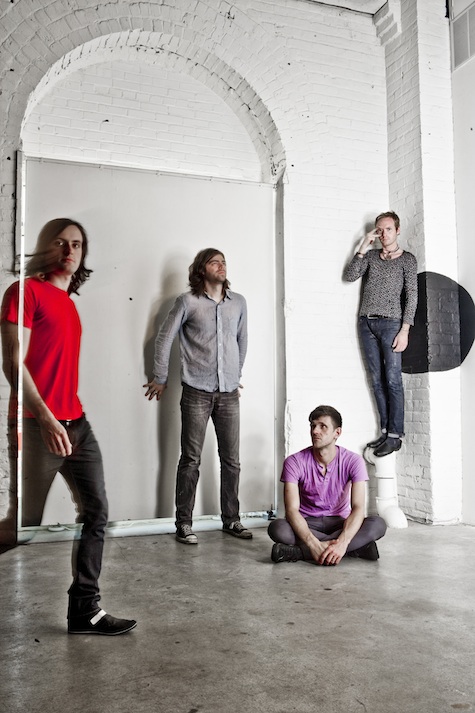 Column 341: More Questions (and Answers) with The Faint

by Tim McMahan, Lazy-i.com

This week continues last week's interview with Todd Fink and Jacob Thiele of The Faint, who, along Clark Baechle, also make up Depressed Buttons. DP had its world premier at House of Loom last Friday night.

I figured while I had Fink and Thiele on the line, I might as well ask a few questions that have been burning in the back of my mind for a long time. Questions like:

Why did it take so long — sometimes between three to four years — for The Faint to put out a record? Will writing music for Depressed Buttons be faster than writing music for The Faint? 

"Yes," Fink said, "but anything would be faster, absolutely anything. Writing a symphony would be faster."

The story goes that The Faint has always been run like a democracy — nothing gets done without unanimous consent from every band member, which also includes guitarist Dapose and former bassist Joel Petersen. And as we all know by watching our own government, democracy can bring progress to a grinding halt.

"We could bang out a song quickly," Thiele said, "but then a couple months later, we would decide that we should probably do a version with a different bass line, and then do a whole new version."

"The fact that we were too democratic was a problem," Fink said. "There were too many people who were full of themselves. If there was a bully in the band, it was probably me. Making records is tough if you want them to be any good. Having a record done is always so awesome, but it started to become more work than it was worth. It got harder each time, and less fun."

Fink, who wrote The Faint's lyrics, also said coming up with the words could be tough, especially since he has a rather random thought pattern. "It's kind of hard for me to write songs that make linear sense," he said. "I don't think the words themselves are hard if you have something to say, but I don't like to write when I don't have anything on my mind."

So why not simply tour with old material? Are you afraid you'd be milking your past success?

"When you go on tour and don't have a new record, you lose momentum," Fink said. "Your name is not out there as much, and you're not in people's consciousness. It's inevitable that you're attendance will go down. And that could be fine, but that is milking it, and eventually you end up with no more milk."

Still, Fink and Thiele said you're more likely to see The Faint on stage before you hear a new Faint album. "We love playing shows," Thiele said. "At this point, we're putting our efforts into Depressed Buttons. But I'm guessing someday something will come up and someone will want (The Faint) to play a show."

"It'll probably be a festival tour," Fink added. "It's a big deal for us to get to the point where our show is ready to go. There's a lot more involved than anyone understands. If we're going to do a show, were going to do a tour; it would be a huge cost time-wise to do just one show."

In fact, Fink said The Faint may never make another album. "It seems more likely that we'd just play shows and record a couple songs, because albums… I don't know about albums," he said. "It would be cool if you could put them out on vinyl, but otherwise I don't know why everyone has to put out a collection. We knew when we made the last CD that it would be our last CD, even though we weren't planning on breaking up."

If recording is now going to take a back seat to performing, then what about Enamel, the 100-year-old brick building renovated as a state-of-the-art recording studio in downtown Omaha, owned and operated by The Faint?

Thiele said Enamel was always former member Joel Petersen's idea. "It was sort of his project, his idea to spend our money on it," Thiele said. "He was recording and mixing bands there for awhile. But he didn't want to stick around and do it." Petersen, as mentioned last week, has moved to Los Angeles.

Thiele said the band now uses Enamel for personal projects, including Depressed Buttons, and also rents the space to other bands — a process that resulted in one band's engineer blowing up some of their sound equipment. Fink said once the studio is back up and running, bookings will resume "and maybe (we'll) get someone in there that takes it on full-time. We'll use it when it's not being used."

Finally, whatever happened to Goo, the off-the-hook dance party series that launched at The Slowdown shortly after the club opened in 2007?

Fink said Goo parties were hugely successful, that is until Slowdown decided to make the parties 21-and-over. "We thought that room would be too big to do without (the under-21 crowd)," Fink said. "That's where the energy is — the kids that show up early and start dancing. We were worried that it would become a crappy party, so we only do Goo for holidays and special events, which has been awesome. We've decided not to do anymore at Slowdown for now, and are going to try restarting it at Loom on Oct. 28 for Halloween."

The Halloween connection makes sense, since costumes have always been a part of Goo, whose DJs also included Derek Pressnall (Tilly and the Wall, Icky Blossoms) and Nate Smith. "The difference between Depressed Buttons and Goo is that Goo is kind of a dress-up party centered around themes," Fink said. "We play classic stuff, some ridiculous things, some indie remixes, some hip-hop, even some commercial-type stuff. Goo is the gateway to actual electronic dance music."

"For Goo, we'll play whatever it takes to make a great moment, even it's the theme song from Team America or MC Hammer," Thiele said. "We kind of live to see who can play the craziest shit sometimes."

"Depressed Buttons is more of an artistic expression," Fink said. "We listen to hundreds of thousands of electronic producers and come up with the best things on the planet (according to us) and share that vision and sound."
* * *
And though this is getting rather long in the tooth, there's still more with The Faint that I couldn't get to in this column or Pt. 1:
What do you think of the Loom concept?

Fink: I think Loom is great. I think Brent (Crampton, one of the founders of Loom) really is good for Omaha, bringing people together, creating awareness for art and music, cultural diversity issues, I think it's cool that he has a hub at House of Loom to host all this kind of stuff. We'll see how it is as a dance club. I've really only been dancing there once so far. It's kind of weird to me because it's a bar, but I think we can turn it into more of a club feel.

With The Faint on hiatus, how do you guys make a living?

Fink: I married a successful musician (Orenda Fink, whose projects have included numerous solo records, O+S, Art in Manila and, of course, Azure Ray), so I'm kind of really lucky in that way. We're doing fine, but at the same time, we're living in a house that I bought from a friend 12 years ago and really don't have much mortgage to pay.

We make a pretty decent living going around DJing; it pays well. It's on par with what we made with The Faint, which was not much. We never made much money because we bought that building, and then the studio.

So Todd, how did  you end up back in Omaha after moving so many times?

Fink: The last place I lived was Athens, Georgia. I like it there, and it's no secret that it's great. We looked at houses there, but all the good places in town are expensive. You don't get much at all. A tiny house (in Athens) costs twice what it costs here. And we've bought enough houses to where we're really picky. We really want the location to be right and we want the house to be right. It's prohibitively expensive to get everything you want in Athens. Orenda wanted to move back, and the master plan was to live in this house and never worry about money, and we could leave during the winter and enjoy the summers here.
That's it for now. If you missed Pt. one of the interview, check it out here. To find out more about Loom, check out their website.
* * *
Tonight at O'Leaver's, it's the return of Deleted Scenes. Their latest album, Young People's Church of the Air, was released Sept. 6 on Sockets Records and already has garnered a 7.8 rating at Pitchfork (right here). The band describes itself as "something like the Dismemberment Plan playing under water." With their dreamcore arrangements and heavy use of delay throughout the recording, I'm more apt to compare their sound to Beach House. Check out their latest video (produced by Love Drunk) and decide for yourself. Also on the bill is Betsy Wells and The Benningtons. $5, 9:30 p.m.
* * *
Read Tim McMahan's blog daily at Lazy-i.com — an online music magazine that includes feature interviews, reviews and news. The focus is on the national indie music scene with a special emphasis on the best original bands in the Omaha area. Copyright © 2011 Tim McMahan. All rights reserved.
No Comments »
No comments yet.
RSS feed for comments on this post. TrackBack URL
Leave a comment