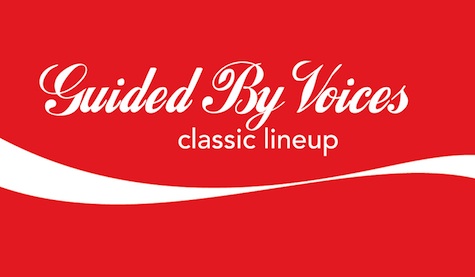 by Tim McMahan, Lazy-i.com
When the Guided By Voices reunion tour was announced in June 2010, Matador Records deemed the band's configuration "the Classic Lineup." Even the GBV logo was reworked in the same colors and font as Coca-Cola, another American classic.
It was the perfect moniker for a lineup that drove GBV's mid-'90s golden era — frontman/singer/songwriter Robert Pollard, guitarist Mitch Mitchell, drummer Kevin Fennell, bassist Greg Demos, and Pollard's partner in crime, guitarist Tobin Sprout, who penned such GBV classics as "Awful Bliss," "Atom Eyes" and "It's Like Soul Man."
For the uninitiated, a quick GBV career summary: It started when grade school teacher Pollard got together with friends from a number of local Dayton bands and jammed in his garage. From 1986 through 1993 the band put out seven recordings, none of which caught the ear of anyone outside southern Ohio.
After '93's Vampire on Titus was released on Scat Records, music insiders began figuring it out. Following a series of New York shows, the band began to attract an interesting group of fans, including The Breeders, Thurston Moore, Peter Buck, Peter Wolf, Ray Davies and the Beastie Boys.
Then in '94, the year of Kurt Cobain's death and the beginning of the end for grunge, along came Bee Thousand, GBV's homemade opus that positioned the band as indie rock legends. Pollard and Sprout had an uncanny ability to write short, sweet pop songs with hooks that you couldn't get out of your head. Sprout's 4-track recordings ushered in what would come to be known as the "low-fi" craze. Suddenly, for better or worse, hiss-filled CDs that sounded like they were recorded for about $10 in someone's basement "studio" were all the rage among indie bands. Sounding good meant sounding bad.
During this era, the classic lineup would make some of GBV's most famous recordings, including Propeller, Bee Thousand, Alien Lanes and Under the Bushes Under the Stars.
But all good things come to an end, right? GBV split up in '06. Pollard went on to a solo career. So did Sprout, who was also nurturing a fine art career and a family. And that, it seemed, was the end of the GBV story.
Until this reunion, but even that has to end sometime. The band's appearance at the MAHA Music Festival this Saturday at Stinson Park will mark the third-to-last show of this reunion tour.
We caught up with Tobin Sprout to find out what happens next:
How did the "Classic Lineup" happen? What convinced the band to get together for these shows?
Tobin Sprout: Matador asked us to reunite for their 21st Anniversary show in Vegas (2010).  After that was announced we were getting offers from all over the country to play, so we ended up doing a 21-city tour.  Then added New Year's and other weekend shows.  We have four more shows to do ending in September, about a year from the time we started the reunion. It was sort of the plan to put it to rest after a year.
What's it been like playing with Bob and the rest of the band again?
It's been good; everyone is having a great time, picking up where we left off.
What have been the best and worst parts about this tour?
The best part is playing in GBV again, I never thought for any reason it would happen.  But Matador gave us an opening and we just have gone with the flow.  It has been great to be with the band and see the fans again.
Flying is the worst part. It never really used to bother me, but now it does, not really for the danger because it's safer than driving, or even the high up in the air part, just the checking in, waiting, waiting, checking, sitting in a very small area. Maybe I'm becoming claustrophobic.
Have you ever talked about writing and recording new GBV material?
Yes, we have talked about it, and you never know it could happen. The reunion happened.
Within the past three or four years, there has been a revival of garage bands, and certainly a lot of these up-and-comers have been influenced by GBV. The GBV set was singled out as one of the best at the Pitchfork Music Festival. What's it like knowing that your music is having an impact on a different generation?
Glad to hear Pitchfork said it was one of the best. It was considered by NP (defund them) R, as one of the worst shows in Seattle.  If we help carry and pass the torch, that's great. It's all about the songs. There are people in every generation that seem to get that.
How has being in a band changed since the early '90s?
Cell phones, laptops, e-mail have made touring seem a lot easier — being able to stay in touch with home and not have to deal with finding a phone (that works), phone cards, etc. I can always be reached now.
What advice would you give those just starting out?
I would say if this is what you want to do, write songs, and write songs.  Then go on tour and play them, and don't sign anything until you have your lawyer look at it.
What are you going to do after the tour ends? Are you working on any solo material or with another band?
I'll be working on my art, music and painting.  Bob and I might do an art show together; right now it's being called "The Big Hat And Toy Show." No date has been set, and I will also need time to get more work together.  (I'm) also writing more on my book, Elliott — April and Elliott, the story continues.
Your paintings are amazing. Will you now refocus your efforts on your fine art?
Thanks, I never really lose focus.  I still manage to paint and write between shows, and I'm always making notes, and sketching ideas in my head on tour.
Will GBV ever reform again for another tour?
I don't know.  Maybe
Finally, what should we expect from GBV when we see you at the MAHA Festival?
The Big Hat And (Amazing) Rock Show, for all the great Omaha and visiting GBV fans, and fans to come.
Guided by Voices plays with Cursive, J Mascis, Matisyahu, The Rev. Horton Heat and The Envy Corps at the MAHA Music Festival, Saturday, Aug. 13, at Stinson Park in Aksarben Village, 67th & West Center Rd. Gates open at noon. Tickets are $30; $35 DOS. For more information, go to mahamusicfestival.com.
Story originally published in The Reader Aug. 10, 2011. Copyright © 2011 Tim McMahan. All rights reserved.

* * *
So here's the deal: While plugging away at a history project of my own, I got lost in the catacombs of old articles and blog entries that make up 13+ years of Lazy-i.com. Narcissistic? I suppose. It dawned on me that no matter what history is written, there will always be things that fall between the tracks that should be remembered. And that's where "The Lazy-i Vault" comes in, a new blog feature online once a week, usually Tuesday or Wednesday, that takes readers back to something that happened in Omaha/Nebraska indie rock history, as reported in Lazy-i. It could be a news item, it could be a show review, it could be an interview. It'll be followed by a brief "so what happened"-style update. It'll usually be just a brief snapshot taken from the past, like this one:
From Lazy-i Vault, Aug. 10, 2000: The Carsinogents will be trotting out a new bass player when they open for the all-girl band, The Pindowns, this Saturday, Aug. 12, 2000, at The 49'r. Vocalist Dave Goldberg said Marc Phillips will be taking over for Mike Ivers, who recently left the band. The Carsinogents also will be playing a show at The Ranch Bowl Tuesday, Aug. 15, 2000, with the Young Hasselhoffs and The Cuterthans.

Goldberg said the band has completed recording a 5-song EP at Rainbow, produced by Dan Brennan of Red Menace fame. "We're currently sending it to various labels and people with connections," Goldberg said. "Ideally, someone will pick it up and put it out. We're very eager to tour." FYI, for those who are on the fence as to whether to hit that 49'r show, Goldberg said The Pindowns perform in Catholic school girl outfits and have played a party for cinematic hero Ron Jeremy.
Back to the present: I don't know if I made it to either of those shows, but I'm sure they were ones for the ages. Carsinogents never did much touring before the band split up a few years later. Goldberg got more than his share of roadwork as a member of Box Elders. You can catch his new joint, Solid Goldberg, Friday night at O'Leaver's.
* * *
Tonight at Slowdown Jr. it's Dntel (James Scott "Jimmy" Tamborello of Figurine and Postal Service fame) along with One AM Radio and Geotic (Will Wiesenfeld of Baths). According to One AM's publicist, "all three acts remixed each other, Will has played on The One AM Radio's latest LP, and Jimmy and Hrishikesh (of The One AM Radio) go way back after meeting through the dublab community up in LA." Expect to see more than just three guys sweating behind a bank of electronic equipment. Probably. $10, 9 p.m.
* * *
Tomorrow: The final word from MAHA before MAHA…
* * *
Read Tim McMahan's blog daily at Lazy-i.com — an online music magazine that includes feature interviews, reviews and news. The focus is on the national indie music scene with a special emphasis on the best original bands in the Omaha area. Copyright © 2011 Tim McMahan. All rights reserved.
2 Comments »
"history project"-hmmmmm

Comment by MarQ — August 10, 2011 @ 6:42 pm
RSS feed for comments on this post. TrackBack URL
Leave a comment