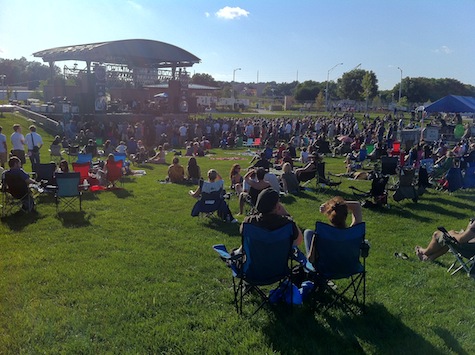 by Tim McMahan, Lazy-i.com
The weather was perfect. The bands were awesome. And the crowd was… well, it could have been bigger.
The final "official" head count, according to MAHA Music Festival organizer Tre Brashear, was 4,000, "slightly down from last year."
A disappointment, and yet, by all other accounts, this year's MAHA, held last Saturday at Stinson Park in Aksarben Village, was a success, certainly from a fan perspective. I realized this about 15 minutes into Guided By Voices' set, standing in a crowd of T-shirts and sunscreen and Coors Lites snuggled in red Kum & Go koozies, the sun just peeking over the western horizon after a long day of warm light, slight breezes, temperatures in the upper 70s — a perfect day weather-wise. By all accounts, by everyone I spoke with, MAHA was flawless. The bands and the stages and the sound were fantastic. You could not have asked for anything more… except, of course, for more people.
The review: In addition to Guided By Voices, which flawlessly tore through a set of their finest ("14 Cheerleader Coldfront,"  "I Am a Scientist" "Hot Freaks," "The Official Ironmen Rally Song," you know, the classics), the other main stage standout was — strangely, unexpectedly — J Mascis of Dinosaur Jr. Seated with an acoustic guitar on his lap, looking like a worried Mr. Natural in nerd glasses, long gray hair blowing in the afternoon breeze, Mascis leaned forward and played a blistering set that drew from his solo work and D. Jr. catalog, highlighting his intricate, ornate, gorgeous guitar work. His voice, a craggy, weary, heart-broken moan, sang of personal yearning while his guitar didn't gently weep, but soared. Undeniably beautiful, but at the same time, desperate and utterly depressing. By mid-set, it was actually bringing me down.
Mascis was quite a contrast to what came right before it — So-So Sailors on the "second stage," located to the left (south) of the main stage and sounding somewhat better, thanks to an easing of volume and the natural earth barrier behind it. You could argue that the main stage sounded slightly overblown, overdriven, just plain too loud. By the end of the evening my voice was ragged from having to scream to talk to the person standing right next to me (no matter where I stood in the Stinson compound).
So-So Sailors was the second stage's highlight, along with Noah's Ark Was a Spaceship, which has people asking if they're the best unsigned band in Nebraska. The other local stage highlight was Lincoln instrumental prog act Machete Archive, a band perfectly suited to cover Rush's 2112 if only one of them knew how to sing. OEA talent show winner The Big Deep and Lincoln electronic dance/groove act Somasphere rounded out the "little acts."
Des Moines' The Envy Corps launched the "big acts" on the main stage shortly after 1 p.m. to a smallish crowd that was still 10-fold larger than the typical early afternoon crowd at last month's multi-million dollar Red Sky Festival. The Reverend Horton Heat followed with an omnibus career-spanning set of indie rockabilly. Local superstars Cursive, featuring original drummer Clint Schnase, was the most bombastic (and loudest) of the day. To me, it was worth thirty bucks just to hear them do "The Martyr." So-called "headliner" Matisyahu's electronic reggae rap closed out the evening to a dwindling crowd (despite the half-priced beers).
Overall, a great day in the park for any indie music fan. Still, "from an 'economic' perspective, the day was just OK," Brashear said. "We had good ticket numbers, but we found that people didn't stay for the whole day, which hurt our food/beverage/merch sales. People came just for RHH, or just for Cursive and GBV, or just for Matisyahu." The "coming and going" is likely a symptom of MAHA not being a true "festival" — a multi-day event where people have to commit (due to traveling and camping) to stay for the duration. For MAHA to expand to something like that next year (and yes, there will be a "next year") the festival will need to find a "presenting sponsor," which it lacked this year.
Maybe the day's biggest winner was Stinson Park. "The fans LOVED it," Brashear said, "but (we're) not sure what Aksarben Village thinks about us." He said more volunteers were needed for after-show clean-up. "We had too much mess left over when the Farmer's Market started the next morning."
Then there's Aksarben Cinema, who I'd been told was livid after discovering during last month's Playing With Fire concert, also held at Stinson, that they had some sound "leakage" problems that caused Harry Potter fans to experience Sharon Jones and the Dap Kings from their theater seats. The buzz Saturday was that the theater, which is the central village draw, was going to put its foot down for future festivals.
During Matisyahu's set, I walked over to the theater and chatted with the kind gentleman stationed at the ticket-tearing gate and asked if they'd had any noise complaints. He said a couple patrons mentioned something, but that was about it. He suggested I find out for myself. "The auditoriums closest to the park are probably 5 and 6," he said. "Pop in and see."
So I did. The Smurfs movie was playing in No. 5. I stretched my eardrums as much as I could, and thought I heard something, maybe a low rumble, but I couldn't be certain. No. 6 was seating for Harry Potter. Pre-movie commercials and music were playing. Again, I heard nothing. Matisyahu wasn't "Cursive loud," but they were certainly earplug loud.
Instead of fighting it, the theater needs to figure out a way to tie into MAHA, that is if it's held in the park next year. If it were up to the fans I spoke with, it would be. They all said they preferred Stinson's cool grass lawn to the sun-baked concrete slab of Lewis & Clark Landing. But for MAHA to grow into a real multi-day festival, it'll need to find some place even bigger and better than both those locations.
* * *
Read Tim McMahan's blog daily at Lazy-i.com — an online music magazine that includes feature interviews, reviews and news. The focus is on the national indie music scene with a special emphasis on the best original bands in the Omaha area. Copyright © 2011 Tim McMahan. All rights reserved.
3 Comments »
As an attendee, I loved the location. As a front gate ticket taker volunteer, I hated it. There were many families and non-indie types that had traveled to the park just to play on the playground, or were confused and thought it was another free concert. And of course, when I told them it would be $35 to get in, they were not happy about it. We even had one older gentlemen walk up to us with his dog and ask if pets were allowed, we told him no because it's a music festival called Maha tonight. He then asked if we use to be located at Lewis and Clark landing and when we said "Yeah, but it's flooded so they were forced move." he replied shouting "Well, you should go back!" and stomped away. Awkward moments went on like that for hours. Stinson park is great, but maybe somewhere a little less public would be better.

Comment by Sara — August 17, 2011 @ 1:13 pm

I liked the location and was very impressed. I think the stages right next to each other helped because it gave a quick turn around between bands. I was skeptical of the line up initially, but it turned out to be interesting all the way through GBV (didn't stick around for Matisyahu…not my cup of tea).
Now, if they want to make it bigger and better, I think they're going to need to find a place to spread out more and be able to support several stages. One day might work, but maybe they need to explore the WARP or Lollapolooza model where they have multiple stages of going at once, and spread the talent between the stages.
Personally, I'd love to see a comedy tent. Also, I'd love all of you to come to the comedy show tonight at the Slowdown featuring Kyle Kinane (Comedy Central Presents, Conan) and Howard Kremer (Comedy Central Presents, Who Charted? Podcast) and opened by local comedy heroes, OK Party Comedy. $12, show starts at 9. Howard raps under the name Dragon Boy Suede, so the show is music related.
Word.

[…] was perfect, finishing a song with "That's all" and getting up. Tim McMahan at Lazy-i.com expressed a similar sentiment: In addition to Guided By Voices, which flawlessly tore through a […]

Pingback by Maha Me: A Recap Of Omaha's Premiere Indie Rock Festival « An Inland Voyage — August 20, 2011 @ 11:09 am
RSS feed for comments on this post. TrackBack URL
Leave a comment