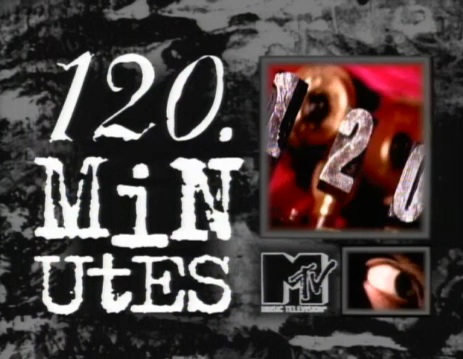 by Tim McMahan, Lazy-i.com
Not a helluva lot going on this week, so I thought I'd pass along this tidbit of news that came by way of slicingupeyeballs.com (SUE). MTV has announced that it's reviving landmark indie music program 120 Minutes as both a monthly program on MTV2 and an online web series called 120 Seconds on the MTV Hive portal, where you can also find full archived episodes of the series.
The new show will be hosted by Matt Pinfield, who I never liked as much as original host Dave Kendell, but is still better than anyone else on MTV these days (and he never seems to age). No word on what will happen to Subterranean, the hour-long MTV program dedicated to indie videos. SUE says Sub ended its run in 2007, which is strange since I just watched last week's episode last night on my DVR.
Anyway, in preparation for the launch of the new 120 Minutes, MTV has begun adding live performance clips to the Hive site, including The Cure doing "Fascination Street," Pixies doing "Planet of Sound," Jesus and Mary Chain doing "Sometimes Always," and World Party doing "Is It Like Today?" All four are embedded at slicingupeyeballs, right here.
I was going to wax poetic about 120 minutes, until I realized that I already did that… back in 2006. Instead of pointing you to the entry, I've copy and pasted it below to avoid your whining about the old site's eye-straining white-on-black design. Back then I was complaining about there being no radio stations in the Omaha market that play indie music. Four and a half years later and nothing's changed.
Tomorrow: I write about Record Store Day a week early so you have plenty of time to mentally prepare…
On it's 25th birthday, remembering the only two hours of MTV that mattered… Aug. 2, 2006

There have been — I don't know — 1.1 million stories written and broadcast within the last 24 hours about the 25th anniversary of MTV, and of those 1.09999 million complained that the channel, which (lest we forget) was created to air television commercials for record companies, was no longer a "music station." Most of the reports devoted a lot of time to MTV's current reality-show programming — like the sickening My Super Sweet 16 — and then pondered if it was "the right thing for our kids to be watching." Even the OWH's former music reporter, Christine Laue, did sort of an "overview" story about MTV.

In every thing I've seen, heard and read, the reporters completely missed what I consider to be MTV's biggest impact not only on today's national music scene, but on the Omaha music scene as well. Since there's nothing else going on today — no music feature to post this week (X ain't doing interviews, at least not with me), no shows tonight worth pimping — let me explain…

Growing up in Omaha, the only music I heard was whatever records my parents owned (the usual collection of Broadway soundtracks and lounge music, plus my dad's copy of the original motion picture soundtrack to the movie Grand Prix (blared as loud as possible on his then-cutting-edge Telefunken stereo system) along with whatever was on Z-92. When we moved to Fort Calhoun and I was in high school, the music of choice came in two flavors — Led Zeppelin and Pink Floyd… And, of course, whatever was played on The Z (Van Halen, Journey, REO Speedwagon, you know the drill).

Just like today, Omaha didn't have a college radio station that played real college (i.e. "underground") music. You had The Z, Rock 100, Sweet 98 and a boatload of country stations. You could not hear what was going on in the then-infant world of alternative music. The raciest thing I remember hearing on the radio was The Z's Slats Gannon playing a track or two off U2's War album, which seemed bold and experimental.

Then along came MTV. It'd been around for years, but no one I knew had cable TV until I was in college. Suddenly all the lousy music you heard on the radio now had pictures to go with it. That awful Jefferson Starship song or the ubiquitous ZZ Top song off Eliminator that Z-92 played into the ground could now be both seen and heard. Who remembers Gina Tomasina? Sure, MTV played videos by a few bands that we (thankfully) hadn't heard of, like Men Without Hats or The Thompson Twins or Duran Duran, which eventually would cross over to the radio, but that was about it for any breakthroughs. MTV was there for those brain-dead moments, it was something you had on before you went out that night or when you were sitting around your friends' house drinking beer after class. Completely inconsequential, except for one single program, and I think everyone who reads this blog knows what program I'm thinking of (and no, it wasn't Yo! MTV Raps).

For two hours every Sunday night, MTV aired a show called 120 Minutes, a program dedicated solely to college music in the early days of indie. For the first time, many of us who had been shielded from that weird alternative music were hearing bands like The Smiths, Joy Division, The Cure, Husker Du, Echo & The Bunnymen, Public Image Ltd, The Psychedelic Furs, Siouxsie and the Banshees, Depeche Mode, Aztec Camera, World Party, Lloyd Cole and the Commotions, The Alarm, The Connells, Syd Straw, The dB's, Buffalo Tom, Chapterhouse, The Stone Roses, Inspiral Carpets, Galaxie 500, Cocteau Twins, The Sundays, The Jesus and Mary Chain, Sonic Youth, Mazzy Star, Pixies, Jane's Addiction, Nine Inch Nails… the list goes on and on throughout the early '90s until the Grunge bands brought alternative to the surface.

120 Minutes was the only place to hear this kind of music broadcast in Omaha other than the short-lived cable-only KRCK. Sure, the show skipped over entire genres of underground music (There was no hardcore on 120 Minutes, for example — bands like The Butthole Surfers, Black Flag and other SST acts were too harsh for television or didn't make videos), but at least it was something. I can say without hesitation that the program had a lasting impact on my taste in music.

And I can tell you from interviews with a number of local bands that 120 Minutes impacted their taste in music, too. Yes, most of the '90s-era Omaha musicians became aware of the music that influenced their sound from places like The Antiquarium, Drastic Plastic, The Cog Factory and their network of friends, but most of them also watched 120 Minutes every Sunday night. It was a cool show, chock full of cool music and the occasional cool interview by Dave Kendall — I still remember seeing Johnny Rotten complain about The Cure ("It's all done in minor key. It's boring!").

I have to believe that Omaha wasn't the only city or town inwhich 120 Minutes was the only avenue for college music. Think about all the indie bands out there now and ask yourself how many of them watched that show. It's probably more than you think.

Anyway, in its ongoing evolution to become an electronic pile of shit, MTV canceled 120 Minutes in 2003, but the show still lives on in a different format on MTV2 — the 60-minute-long Subterranean, which I Tivo every week. The sad truth is that, to this day, Subterranean is still the only place to hear real college music in the Omaha area other than Dave Leibowitz's two hours on The River, which is also broadcast on Sunday nights. It's sad that we still don't have a college radio station that plays college music in this town and ironic that Subterranean played videos by Saddle Creek Records bands years before any radio station in Omaha played them. The more things change, the more they stay the same…
* * *
Read Tim McMahan's blog daily at Lazy-i.com — an online music magazine that includes feature interviews, reviews and news. The focus is on the national indie music scene with a special emphasis on the best original bands in the Omaha area. Copyright © 2011 Tim McMahan. All rights reserved.
2 Comments »
yep. that about sums it up!

Comment by dane — April 6, 2011 @ 1:06 pm

I saw Black Flag's TV Party video more than a few times on 120 minutes.

Comment by JOC — April 7, 2011 @ 2:57 am
RSS feed for comments on this post. TrackBack URL
Leave a comment