Welcome back to the working week; say 'hello' to 2010. The office has been kind of empty without you. It's nice to have you back. If you haven't been to Lazy-i throughout the holiday, you've got some catching up to do. I'll make it easy for you. You can either scroll down and read all the past entries, or check out these convenient links. We've covered a lot since you've been gone, including:
— The Year in Music 2009 (complete with various top-10 lists)
— Visions of 2010, Pt. 1 (a recap of the 2009 predictions)
— The Best of the Decade (that ain't over yet)
Along with various and sundry live reviews of shows that took place over the past two weeks. Catch up on your reading. We'll wait…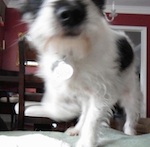 We've also been running a contest in your absence. Enter to win a copy of the Lazy-i Best of 2009 Sampler CD. It's my annual best-of-the-best collection, and this year includes songs by Yo La Tengo, Elvis Perkins in Dearland, Box Elders, Micachu and the Shapes, Cursive, Conor Oberst and the Mystic Valley Band, The xx, Digital Leather, Pete Yorn, Peaches, Ladyfinger, The Avett Brothers, Maria Taylor and more. Full track listing is here. To get your name in the hat, send me an e-mail (to tim@lazy-i.com) with your name and mailing address. It's that simple. And considering the number of people who have entered so far, your odds of winning are pretty damn good. Deadline is Jan. 18.
* * *
Yesterday (yes, just yesterday) I spent the lunch hour at the home of Wayne Brekke talking into a microphone about the year that was 2009 for the latest episode of his wonderful Worlds of Wayne podcast. Wayne's already edited the conversation and placed it online for your listening pleasure, right here. We talked about the best music and shows of '09, and even had a friendly, heated back-and-forth about songwriting rights and the Omaha Entertainment and Arts Awards, though neither conversation may have made it to the final edit. I'll never know because my ongoing phobia regarding hearing my own recorded voice will likely prevent me from ever listening to this specific episode. But you can, and should. Do it.
* * *
With The Waiting Room closed for renovation and bands generally not touring because of the time of year (Who wants to drive a van in sub-zero, ice-packed conditions?), there aren't many shows looming on the horizon. Something tells me it's going to be a long, cold January…
–Got comments? Post 'em here.—
No Comments »
No comments yet.
RSS feed for comments on this post. TrackBack URL
Leave a comment