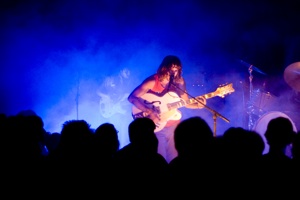 I wasn't really in the mood to see Portugal. The Man last night at The Waiting Room. I went on a two-hour cycling run just an hour before the show and was still feeling it. But I went anyway, arriving at around 10:30, after Landing on the Moon (who, btw, has a new album coming out in October) but just in time to see P.TM's full set.
My first impression: This band belongs on a major label. In fact, this band will be on a major label, eventually. It's the first time in a long time that I've thought that about a self-proclaimed indie band playing at TWR or Slowdown. P.TM has all the tools to make it in the big leagues. They have a huge, heavy sound that recalls Led Zeppelin or any of the other big '70s arena bands. Their frontman, John Baldwin Gourley, has an amazing voice with a huge range and plenty of sass (He was named AP Magazine's "vocalist of the year" in 2008). And they know how to put on a show — they turned off the stage lights, opting for their own bottom-up floor strobes and light curtains, controlled off the side of the stage by one of their roadies. Very dramatic. Photographer John Shartrand took the photo on the left. Here's what I captured on my iPhone.
But at the center of it all is their songwriting, which fuses the best parts of indie with heavy/arena rock and (at times) prog — they had a way of wandering off the reservation for eyebrow-raising transitions, always finding their way back to the center of things. As bombastic and drama-filled as their arrangements are, they still lack the pure, simple hook that all those majors covet. But that'll come. You get a twinkling of it on their album, but anything that comes close to being "safe" is dashed to bits on stage, where it's brutalized into a monsters-of-rock thunderstorm.
They're very good. They could be the next (quality) band to emerge on radio and television. I guarantee one of the big-label boys will snort them up if they get daring enough to scurry out of their safe little cubbyholes and take a look around. And if the band's wonky name doesn't scare them away.
* * *
Tonight at fabulous O'Leaver's, Minneapolis band The Blind Shake play with local noise-rock heroes Ketchup and Mustard Gas and Perry H. Matthews. TBS is on Learning Curve Records, a label whose roster boasts Private Dancer, Sicbay, The Fuck Yeahs and The Hold Steady (I'm still trying to figure that one out). $5, 9:30 p.m.
–Got comments? Post 'em here.—
No Comments »
No comments yet.
RSS feed for comments on this post. TrackBack URL
Leave a comment