First, within an hour after posting yesterday's blog entry, Lincoln music expert and man-about-town Jeremy Buckley posted a comment on my webboard with all the details about O+S (here). Judging by the number of profile views on their myspace page, I'm the last to know about Orenda's new project. Lord only knows why Saddle Creek is keeping them on the down low — there's no mention of O+S on the Creek site, despite the fact that the album hits the streets in March.
* * *
Tim Kasher talks about getting older in a new interview at the Youngstown Vindicator (here). From the article: "Why do people have to act so old," said Kasher, laughing while calling from Santa Monica, Calif. "The problem is we all get older, but generally for Americans — and not myself — going out to see shows becomes something younger people do, which it doesn't have to be that way. So I think it means more to us when 30-year-olds are into [our music]. Not to dismiss teenagers: When you write and play this umbrella genre of rock 'n' roll, that's who listens to it, teenagers.
"We were teenagers, and now we're in our 30s. And it's not like we're playing some antiquated music that we don't believe anymore. We're still doing the same things that we believed in then. So I guess it means more to us when there are 30-year-olds who actually have been with us the whole time. I don't think there are many of them, frankly."
I remember when I was a teenager listening to albums with my headphones and thinking how much I'd miss music when I got older because there was this thought that "old people" don't listen to music, that rock was for teen-agers only. Certainly my dad didn't listen to rock music. The same backward thinking applies to rock shows — when are you too old to go see a band (other than a dinosaur act at the Qwest Center)? Is it when your friends quit going to shows? Or when you have kids and reprioritize your life so that music no longer plays a role? Well, my old friends don't go to shows anymore, so I made new friends. I can't speak to the issue of getting married and having a family. I can say that a lot of people I know put music away when their children arrived and use their family life as an excuse for not going out any more (or doing anything creative, for that matter). So be it. Chances are even if they didn't have kids they would have quit going to shows anyway. Rare is the person who can continue to "get into" new music (and not just what they grew up with) after they reach their 30s. That's just the way it is.
* * *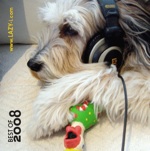 Which is a good segue into letting you know that today is the last day you can enter to win a copy of the Lazy-i Best of 2008 CD Sampler! I started putting together samplers 12 years ago as a way of sharing new music with friends and family who either don't have the time or the resources to hear new music. And now you can become part of that "inner circle." Just send me an e-mail (to tim@lazy-i.com) with your name and mailing address and you'll be entered into a drawing for a free copy. Tracks include songs by Silver Jews, David Byrne/Brian Eno, Conor Oberst, Jenny Lewis, UUVVWWZ, Deerhunter, M83, Taking Mountain, Neva Dinova, Dan McCarthy, Tilly and the Wall and more. Full track listing is here. Enter today. Deadline is tomorrow, and I'll be announcing the winners on Monday.
* * *
There's a very special show tonight at Slowdown Jr. — the last-ever performance by Sleep Said the Monster. I got an email from Karl Houfek of SStM a couple weeks ago saying the band may return in a different incarnation at some point, but that Chris Rivera (drummer) is moving to Miami soon and "we're either going to pack it in as a band or get a fresh start with a new name." Houfek is pretty busy these days as a member of both Brad Hoshaw and the Seven Deadlies and It's True. Helping send off SStM in style will be Deleted Scenes and Noah's Ark Was a Spaceship. $7, 9 p.m.
Also going on tonight, The Filter Kings play at The Waiting Room (headliner Joe Buck Yourself cancelled). With Weezil Skweezins Or Whatever. $5, 9 p.m.
Over at The Saddle Creek Bar it's John Klemmensen (Landing on the Moon) with Jes Winter and Black on High. $5, 9 p.m.
* * *
Tomorrow night at Slowdown Jr. it's the victorious return of Box Elders after a successful East Coast tour. Also on the bill is Girls of Gravitron, Yuppies and The Contrails. $7, 9 p.m.
It's another night of punk at the Saddle Creek Bar Saturday night with The Upsets, Jealous Lovers and Cordial Spew. $5, 9 p.m.
OEA winner for best cover/tribute band The Song Remains the Same plays at The Waiting Room Saturday night with Tenclub, a Pearl Jam tribute band. $7, 9 p.m.
Finally, Sunday night is M83 at Slowdown with Fine Fine Automobiles (Landon Hedges). Tickets are still available for $15.
* * *
One final non-music-related note: The closing of the Cinema Center yesterday garnered a lot of coverage in the local press that included dollops of nostalgia and reminiscing, and that's fine. Missing from the coverage, however, was the fact that Cinema Center had one of the largest (if not thee largest) movie theater auditorium in Omaha, designed to old-school specs that made going to a movie feel like going to an event. Cinema Center's huge No. 1 aud could fit well over 600 patrons and was only rivaled by the long, lost Indian Hills for sheer size. There's nothing like seeing a movie in a sold-out theater that enormous. These days, the average theater auditorium capacity is miniscule in comparison, thanks to the advent of stadium seating. Sure, we're more comfortable, but it just ain't the same.
–Got comments? Post 'em here.—
No Comments »
No comments yet.
RSS feed for comments on this post. TrackBack URL
Leave a comment