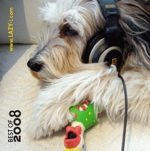 This year's Lazy-i Best of '08 sampler recognizes the website's 10-year anniversary. As I say in the liner notes, Teresa gave me a copy of Microsoft FrontPage for my birthday back in '98, which I used to build the site's first pages. Work is under way on a new site design (it's about time) that will better integrate with all the social media bells and whistles that define the so-called Web 2.0 environment. Bah. It may make updating the site easier, but someone's still gotta write it.
Anyway, here's the track listing to this year's sampler, which I send out every holiday season to friends, family and music colleagues in lieu of Christmas cards. Consider it a sneak preview of tomorrow's year in review article (but expanded to include more bands). For me, these were the best songs of '08, the ones that will forever be the soundtrack for this tumultuous year.
Silver Jews, "San Francisco B.C." from Lookout Mountain, Lookout Sea (Drag City)
David Byrne & Brian Eno, "Strange Overtones" from Everything That Happens Will Happen Today (Todomundo)
Conor Oberst,"Cape Canaveral" from Conor Oberst (Merge)
The Faint, "The Geeks Were Right" from Fasciinatiion (blank.wav)
Filter Kings, "Hundred Proof Man " from Finer Things (Speed! Nebraska)
Brad Hoshaw, "Powdernose" from Live at Mick's Music & Bar (self release)
Son Ambulance, "Juliet's Son" from Someone Else's Deja Vu (Saddle Creek)
UUVVWWZ, "Berry Can" from UUVVWWZ (It Are Good)
Deerhunter, "Nothing Ever Happened" from Microcastle (Kranky)
Vampire Weekend, "Cape Cod Kwassa Kwassa" from Vampire Weekend (XL)
M83, "Graveyard Girl" from Saturdays = Youth (Mute)
McCarthy Trenching, "To An Aesthete Dying Young" from Calamity Drenching (Team Love)
Neva Dinova, "Tryptophan" from You May Already Be Dreaming (Saddle Creek)
Tilly and the Wall, "Beat Control" s/t single (Team Love)
Titus Andronicus, "Titus Andronicus" from Airing of Grievances (Troubleman Unlimited)
Tokyo Police Club, "Your English Is Good" from Elephant Shell (Saddle Creek)
Does It Offend You, Yeah?, "Let's Make Out" from You Have No Idea What You're Getting Yourself Into (Almost Gold)
The Whipkey Three, "Separation" from The Whipkey Three (self released)
Jenny Lewis, "Sing A Song for Them" from Acid Tongue (Warner Bros.)
Talking Mountain, "The Abominable Abdominal Snowman" from Old Gold, Ancient Jamz (Slumber Party)
As per usual, you can enter to win a copy of the Lazy-i Best of '08 CD. Just send me an e-mail (tim@lazy-i.com) with your name and address — don't worry, your addy is for mailing purposes only and will be destroyed after the contest. Hurry! Contest deadline is Jan. 17!
–Got comments? Post 'em here.—
No Comments »
No comments yet.
RSS feed for comments on this post. TrackBack URL
Leave a comment