The continuation of yesterday's weekend recap is summed up in this week's column, below, which also will be published in Thursday's issue of The Reader. Here it is a day or so early…
Column 155: Preconceived Notion
What are we missing?

So Saturday night rolled around and looking through the listings I saw that Lincoln Dickison was doing a rare solo acoustic show at Mick's. Dickison is renowned locally for his guitar playing in The Monroes, and within the last year as the bass player in Bombardment Society not to mention his work a few years back as frontman for the chaotic noise-punk trio Putrescine, which sadly no longer exists.

I'd heard about the show from members of The Black Squirrels a week earlier while backstage at the first OEA awards show at The Scottish Rite Hall. The Squirrels also were on that Mick's bill, and I made a mental note to clear my calendar for Saturday night.

Also on the bill was a guy named Brad Hoshaw, but looking at the band order on the listing, I figured if I timed it right I could miss Hoshaw altogether and just see Dickison and the Squirrels. Nothing against Hoshaw, he just wasn't for me. I was introduced to him briefly a few years ago by Matt Whipkey at a show at O'Leaver's. Hoshaw, with the well-groomed beard and the ponytail, looked like a cleaned-up, Midwestern hippy. Whipkey said he was one of the city's best singer-songwriters who played a lot at Mick's and other places around town that showcase acoustic music. He was a nice, affable person with an honest, warm smile, but I never bothered to check out his music. I'd seen more than my share of these guys who sing about their personal pain to the tune of the same boring, dusty acoustic chord progressions. Thanks but no thanks.

We're all guilty of bearing preconceived notions about people and music and places and things. Maybe not all of us. There are a few of you with an open mind who never make those prejudgments. But you're very rare. Most of us see something or hear something and write it off as more of the same ol' bullshit before we really get to know it. Nowhere is that more true than with music. We hear about a band or see their picture and immediately think, "Been there, done that, moving on." Let's face it, life is short and we don't have time to explore every path of discovery in search of that golden nugget of artistic relevance, especially after so many wind up being I-told-you-so dead ends. After all, aren't most stereotypes dead accurate? Aren't most first impressions absolutely true?

Somehow I managed to avoid Hoshaw ever since that first meeting. It wasn't hard to do. I rarely go to Mick's because while I love good acoustic folk, I generally enjoy listening to it in places that don't sound like German beer halls during Octoberfest. It's the height of irony — Mick's showcases the quietest music performed in our scene, and it also has the chattiest crowds in a room with the worst crowd acoustics (i.e., you can hear every gory detail of Buffy-in-the-back-of-the-room's last date while sitting at the tables right next to the stage).

As it turned out (and often is the case) the band order didn't reflect what was printed in the paper. We got there at 10 and Lincoln Dickison already was on stage. We made our way to the only open table in the place — on the floor to the left of the stage. I knew better than to expect Dickison to be spitting out rowdy, angry punk. Lost in his other projects is his quiet, personable voice and a songwriting style that's summed up by the cover he chose to play at the end his set — a rambling version of Richard Thompson's "Cooksferry Queen."

Instead of the Black Squirrels, Hoshaw strolled onto the stage with his beat-up acoustic guitar. I turned to Teresa and said, "Good god, prepare for the worst. We can always sneak out of here between songs if this sucks, and I know it will."

Hoshaw took a moment to tell the crowd about that old guitar, how the crack in its back seemed to be getting wider, and I could see from my seat how its finish had been worn through from thousands of nights just like this one.

And then Hoshaw started playing, and I quickly realized what an ass I had been, and felt a pain of regret in the pit of my stomach.

Hoshaw's music was simple coffee shop acoustic folk but with a few important differences. His somber melodies were gorgeous, and his voice was honest and without affectation, similar in tone to Damien Jurado's but uniquely its own. He used the same introduction for a number of his songs: "This one comes from an album that was never released." Later he added, "That's what I'm good at, making albums that no one ever hears."

He took a sip from a shot of Johnny Walker neat and started playing "Powdernose" (the song's name I discovered afterward by scouring

his Myspace page

). More than just another lonely drinking song, it was a stunning portrait of liquefied regret, with the line, "

I wonder what Jesus would think if he caught us alone with powdernose?

" Hoshaw finished with a cover of a song by his pal Kyle Harvey; its delicacy lost in a sea of Mick's chatter.

I left that night depressed. I'd found the acoustic singer-songwriter that I'd been searching for, but who I had ignored because of my own jaded lack of vision. I wondered what else I'd been missing all these years because of assumptions. And what I'd never get a chance to hear or see again.
* * *
Tonight at The Waiting Room, a veritable Slumber Party Records showcase featuring two bands from the label, Baby Walrus and Honeybee, along with Noah's Ark Was a Spaceship. $7, 9 p.m.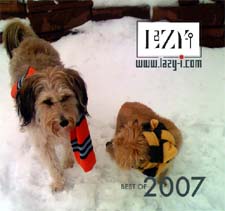 Hey, don't forget to enter to win a copy of the coveted Lazy-I Best of 2007 Compilation CD! All you have to do is e-mail me (tim@lazy-i.com) with your name and mailing address and you'll be entered into the drawing. Tracks include songs by Stars, Interpol, Rilo Kiley, Wilco, Les Savy Fav, Justice, Baby Walrus, Bright Eyes, The Good Life, The Monroes, The Third Men and many more. Details and track order are right here. Enter today! Deadline's January 17.
No Comments »
No comments yet.
RSS feed for comments on this post. TrackBack URL
Leave a comment