Hope y'all had a good, drunken New Year's Eve. Me, I never go out on New Years. It's never a good holiday for live music. Most venues book cover bands (or bands that sound like cover bands) because that's what the masses want, and who can blame them? One music-related resolution this year is to try to do better with CD reviews — a difficult task under the already large pile of writing that I'm doing. I do listen to the CDs that come my way. I rarely write about them if they suck. This year I may begin to merely issue "No's" without comment on the lousy ones just to get through the pile. "Yes's" often are covered in feature stories and reviews, but they take more time. There's nothing less satisfying that reading a review that simply says, "Check these guys out." We'll do better next year.
Some catching up news-wise: A number of Minneapolis papers printed reviews of the Conor Oberst solo shows at the 400 Bar last week. Among them, this one from the Minneapolis Star-Tribune. Sounds like Oberst's band included Rilo Kiley drummer Jason Boesel and guitarist Nik Freitas, who opened the show. No M. Ward. "Musically or lyrically, the songs weren't a radical departure for Oberst, but they traded Bright Eyes' orchestrated and dramatic flavor for a rawer, looser, more roadhouse vibe." Sounds good to me. City Pages published a slideshow of the concert, here.
Chatting backstage at last week's OEA awards deal, Black Squirrels' bass player Travis Sing mentioned that he's in a new band with Doug Kabourek (Fizzle Like a Flood) and James Carrig called At Land. The trio already has a couple tunes up on a Myspace page (myspace.com/atlanders). Travis mentioned "Brit-rock" in his description — they sound more like a reincarnation of The Replacements to me. Travis also mentioned that he's working with Matt Bowen, Matt Rutledge and Pat White on a "punk/new-wave 'karaoke' band at the Waiting Room." Shithook karaoke? Fun! Look for the launch in mid-February.
And look for my annual "Predictions" article right here tomorrow. It's a doosy.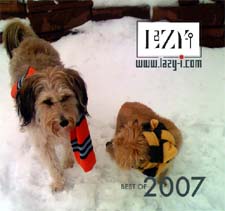 Hey, don't forget to enter to win a copy of the coveted Lazy-I Best of 2007 Compilation CD! All you have to do is e-mail me (tim@lazy-i.com) with your name and mailing address and you'll be entered into the drawing. Tracks include songs by Stars, Interpol, Rilo Kiley, Wilco, Les Savy Fav, Justice, Baby Walrus, Bright Eyes, The Good Life, The Monroes, The Third Men and many more. Details and track order are right here. Enter today! Deadline's January 17.
–Got comments? Post 'em here.—
No Comments »
No comments yet.
RSS feed for comments on this post. TrackBack URL
Leave a comment