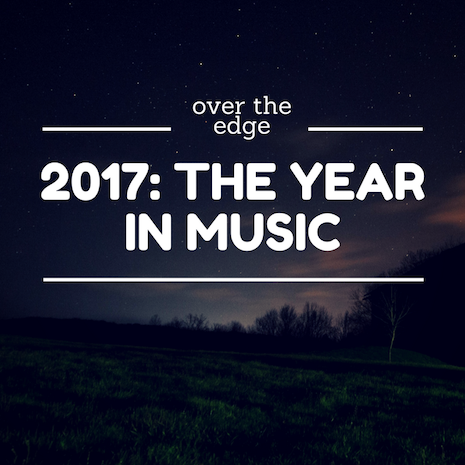 by Tim McMahan, Lazy-i.com
This was posted in The Reader yesterday (here), so you might already have seen it. It's also in the printed edition, which hits the streets this week. I include it here for posterity (so if The Reader ever goes belly-up, it'll still be online somewhere, cuz Lazy-i is forever). The infamous "Predictions" story goes online at The Reader this afternoon. I'll post it here tomorrow.
Did I forget to say Happy New Year? Happy New Year! We go back to regular programming on Wednesday with a review of Saturday night's Little Brazil/Criteria show at The Waiting Room. See you then.
* * *
2017: The Year in Music
It's been a turbulent year for local indie music, a year marked by highs, lows and everything in between.
We'll get to all that, but first we can't overlook the obvious: It's been another great year for new music. While whispers of a dying music industry have been echoing around us for over a decade, more remarkable music was produced last year than in recent memory. So much that it's impossible to keep up with it all.
In the old days, if you were an indie music fan like me, all you had to do to keep up with the good stuff was know your record labels; but these days I'm starting to wonder if labels are going the way of the dinosaur.
Case in point, open your Spotify app on your phone or your desktop and pull up a playlist. You'll find a list of band names, a list of titles, but you've really gotta dig to figure out which record label an artist is signed to. To folks who consume music via streaming services, record labels don't matter and probably never did.
But for others, record labels meant everything. Before streaming, serious indie fans purchased music based on record label alone. If the artist was on, for examples, Matador or Sub Pop or 4AD or Rhymesayers or Saddle Creek, a purchase was made with nary a note heard, because you trusted the labels' taste in artists. And sometimes you blew it but most times you got your money's worth.
Streaming is changing everything. I mean, does anyone even buy music anymore?
Midway through 2017, the American music industry boasted revenue growth of 17 percent, with retail income at $4 billion. The numbers were fueled not by records sales, but by more than 30 million subscriptions to streaming services that now comprise 62 percent of the total music market, according to the Recording Industry Association of America (RIAA). Physical sales of vinyl and CDs only comprised 16 percent of music industry revenue through mid-year.
"More than any other creative industry, music is a digital business, with approximately 80% of our revenues coming from a wide array of digital services," said the RIAA in its mid-year press release.
And yet, labels are still very much with us. Case in point: Our own Saddle Creek Records enjoyed a robust year, signing new acts Stef Chura and Young Jesus while basking in the glow of the continued success of new-hires Hop Along and especially Big Thief, whose release, Capacity, is on every prominent music journal's "best of" list, from Rolling Stone to Pitchfork.
With a just-opened office in Los Angeles, what does Saddle Creek Records have up its sleeve for 2018?
Saddle Creek's resurgence wasn't the only local headline last year. Among the other noteworthy stories in 2017:
In September DIY music club Milk Run was shut down, apparently for good. According to a Hear Nebraska report, cops showed up during the Nebraska Hardcore Showcase and locked down the cavernous show space, located in the basement of Midtown Art Supply at 2578 Harney. The building's landlord said no more, and while the remaining schedule of Milk Run shows were performed in venues around mid-town, a new location has yet to be identified. Is this the end of Milk Run?
Local musicians Orenda Fink, Simon Joyner and Noah Sterba were ensconced in controversy over their music and their performances, driven in part by outspoken critics organized in Facebook. The issues involved race, accusations of cultural approbation and artistic freedom, and the impacts are likely to be felt well into the future, unfortunately.
Nebraska music non-profit Hear Nebraska joined forces with Lincoln non-profit The Bay to form a new umbrella organization called Rabble Mill, which launched Jan. 1. Rabble Mill's goal is to enable kids to "discover their passion and build valuable life and professional skills." Hear Nebraska, which was formed in 2010, will continue as part of Rabble Mill, but expect to see a lot of changes.
After operating for more than a year as a hush-hush private club, Hi-Fi House finally went public in September. The spacious high-end music listening room, located at 3724 Farnam St. in the Blackstone District, offers access to its ever-growing, massive private vinyl collection as well as other special programming. Founder Kate Dussault said the Omaha Hi-Fi House is merely the first of what she hopes will be a nationwide network of private listening rooms.
Speaking of indie labels, in January, the guys from Cursive — Tim Kasher, Matt Maginn and Ted Stevens — launched their own label, 15 Passenger Records. Their first release was Kasher's third solo album, No Resolution, while the label closed out the year by reissuing Cursive's first two albums with promises of new Cursive material in the near future.
And finally, Omaha's two best music venues — The Waiting Room and The Slowdown — celebrated their 10 year anniversaries this summer. Both venues have been stalwarts of the local music scene as well as conduits that brought the nation's best indie music to Omaha for the past decade.
Which brings us to the "list" part of the Year in Review.
As mentioned above, last year was as strong a year as I can remember for indie releases (located right here); Still, last year I went to fewer rock shows than any year since the '90s, when indie music was underground (literally). I likely missed more shows than I saw, but that said, here are my favorite shows from 2017:
Umm at Reverb Lounge, April 13 — Umm is a new project by Stef Drootin and Chris Sensensey that sounds nothing like their other band, Big Harp. The rock style, the blistering pace, the guitar/bass tones, even Senseney's voice — now cool and easy — was a big contrast to the grave-pit vocals heard on Big Harp albums.
Jon Langford & Friends at O'Leaver's, May 29 — Langford of The Mekons performed a cracking set that included songs from his upcoming album as well as some Mekons' gold and songs from his Waco Brothers project. I was expecting a C&W set, but Langford's style was more of a rootsy British folk-meets-rock mix.
David Nance at The Sydney, July 10— His guitar work was already respected — ranging from big riffs to lead fills to walls of feedback — now his voice is taking center stage. The only comparison in my mind is early Jon Spencer, and Nance does have a similar stage appeal, albeit hidden behind that huge head of hair.
Tobin Sprout at Reverb Lounge, July 21— What I love about his and Guided By Voices' songs, beyond the riffs and bright, energetic melodies, is their brevity. Sprout songs rarely last longer than three minutes. Get in, get out, move on. And though the crowd was small, it was lively, comprised mostly of old-time fans who weren't afraid to pump their fists or pogo or cheer when one of their favorites began.
Those Far Out Arrows at Slowdown Jr., Aug. 8 — I knew they were getting to this very young crowd (who, btw, likely never heard of TFOAs prior to this show) when the pack in front of the stage naturally erupted into a pseudo-mosh pit, pushing and shoving and jumping along with one of the band's mid-set songs. It's been awhile since I've seen that at a garage-rock show.
Stephen Sheehan at Reverb Lounge, Aug. 18 — The frontman to '80s-'90s post-punk bands Digital Sex and The World, Sheehan surrounded himself with a talented group of musicians who brought his musical past to life. Fans heard the best of Digital Sex, including "In Her Smile," "Roses on Wednesday," "The Days Go" and "Red Girl," but the most daring and provocative moments were The World songs that showcased guitarist Ben Sieff at his revved-up best.
Maha Music Festival at Stinson Park, Aug. 19 — Another banner year for Omaha's best music festival, highlights included Belle & Sebastian, Downtown Boys, local heroes High Up and The Faint, while headliner Run the Jewels had its set cut short by the weather. How will Maha top it for its 10th anniversary?
Beck at Stir Cove, Sept. 9 — Highlights of his flawless performance included "Qué Onda Güero," which turned the place into a dance party, and a smoking version of "Dreams." And then there was "Loser," a shopping-mall anthem for the dad-rock set that got the crowd singing along with gusto.
Sextile at Meatball, Sept. 16 — A raging electronic No Wave sound barrage, chaotic and fierce, they reminded me of the very early days of The Faint, though the venue made it feel (and look) like an in-store.
Tears of Silver at Hi-Fi House, Oct. 2 — Fronted by Posies' Ken Stringfellow and Mercury Rev's Jonathan Donahue, the band played a set that included covers of songs by Neil Young, Flaming Lips and Al Kooper, as well as favorites by the members' respective bands: Posies, Mercury Rev and Midlake, closing the night with a Big Star cover. Sublime.
Zola Jesus at The Waiting Room, Oct. 11 — This goth-tinged dance party was fueled by dark pop songs with big beats, thick bass and Rosa Danilova's amazing voice that (to me) recalled early Sinead O'Connor.
Minneapolis Uranium Club at Pet Shop Gallery, Dec. 9 — This is what would happen if a computer scientist digitally combined Devo, The Dismemberment Plan and Wall of Voodoo into one diabolic sound file — quirky, jittery, precise (and fast) post-punk guitar rock combined with smart, ironic observations about our devolving society and the world around us. And they freakin' rocked.
First published in The Reader, Dec. 31, 2017. © Copyright 2018 Tim McMahan. All rights reserved.
* * *
Hey, don't forget to enter to win a copy of Lazy-i Best of 2017 Comp CD!
The collection includes my favorite indie tunes I've come across throughout last year as part of my tireless work as a music critic for Lazy-i. Among those represented: Luna, CLOSENESS, Slowdive, !!!, Digital Leather, Perfume Genius, Big Thief, Wilder Maker and lots more. The full track listing is here, or take a listen if you have Spotify.
So the big news is you, too, could win a copy of the CD. To enter, either: 1. Send an email with your mailing address to tim.mcmahan@gmail.com, or 2) Write a comment on one of my Lazy-i related posts in Facebook, or 3) Retweet a Lazy-i tweet. You also can enter by sending me a direct message in Facebook or Twitter. Hurry, contest deadline is midnight Jan. 5.
* * *
Read Tim McMahan's blog daily at Lazy-i.com — an online music magazine that includes feature interviews, reviews and news. The focus is on the national indie music scene with a special emphasis on the best original bands in the Omaha area. Copyright © 2018 Tim McMahan. All rights reserved.