by Tim McMahan, Lazy-i.com
I think we're going to start a new tradition for New Years — instead of celebrating on New Year's Eve, when the drunks are out, with all the traffic and the unholy fireworks, we're going to celebrate the new year the night (or the weekend) before NYE. I figure I'm going to be home on NYE at midnight anyway to shield the dogs from the war noises booming overhead, I might as well celebrate the new year before the fact. Kind of like we did this year. Now if only we could get The Faint to play a pre-NYE show every year.
The Slowdown was packed Friday night, but not too packed. In the old days, The Faint would have easily sold out two nights in a venue the size of The Slowdown. Now the best the band can do is comfortably fill a large venue two nights in a row. Let's face it, the band's heyday was 15 or so years ago with the breakthrough of Danse Macabre, and even back then, I remember seeing The Faint perform that album at Sokol Underground — a show that stands out as my all-time favorite Faint performance. It's followed closely by an unannounced pre-grand-opening performance at The Waiting Room in 2007 — probably the loudest Faint show I can remember.
That same year, in June 2007, The Faint had sold out a two-night residency at Sokol Auditorium. All of those Sokol Aud shows from that decade (and the years that followed) were complete madness — hot sweaty bouncing dancing messes of humanity; absolute spectacles.
Last Friday night's show didn't quite reach the level of those Sokol shows, but it was a good time nonetheless. If there was a drag on the performance it came from the audience, because the band was clearly on point playing a set of greatest hits in support of their CAPSULE: 1999-2016 album that just came out on Saddle Creek. It's easy to forget how many great songs these guys have recorded. It's a good time to mention that the new material — three new songs released as part of the CAPSULE album — stand tall among their finest efforts, seamlessly blending into the set.
The Faint's light show has been an evolution over the years. I remember the days where they controlled colored floodlights with floor pedals, to haunting effect. These days the light show is a flashing, strobing choreographed wonder in perfect sync with every bone-rattling beat. I have no idea how it could get any better.
Maybe it was thos awe-inspiring lights or the enormity of the music but the audience on the floor seemed a bit dumbfounded. It took half a set to get their butts moving and not until the end until they got their arms in the air and bodies began to be carried over the crowd — a far cry from those old Sokol Aud days.
The band kicked off the four-song encore with a rehearsal of sorts for a surprise they intended to roll out the next evening, NYE — a cover of Prince's "1999" — a sloppy, rowdy, slam-bam version wherein the band got lost somewhere after the second verse, which the crowd either didn't notice or didn't care. The whole place blew up for the last song of the encore — a celebratory version of "Glass Danse" that left them covered in sweat. There is no such thing as a bad Faint show.
I missed Closeness, but got to see about half of Plack Blague's set. It's been too long since I've experienced Raws on stage. The last time was at O'Leaver's a few years ago for a set of ear-bleeding distorted noise and screaming. Last Friday night's set was a different story — a raw, leather-clad set of electro-noise-fueled disco fronted by a bondage geek with slippery, greasy dance moves. For any other crowd, Plack Blague would be controversial if not shocking, but Faint fans have been following Raws' path for years and expect nothing less than the most salacious performance. What a way to kick off a new year…
* *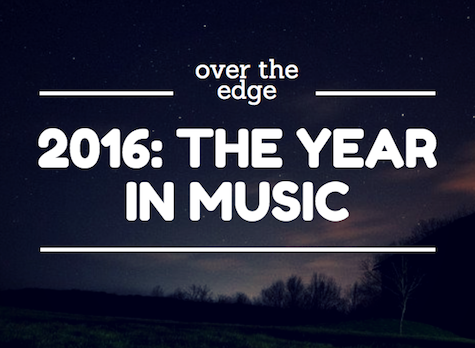 It wouldn't be a new year without looking back on the old year, and as such my 2016: The Year in Music story finally went online at The Reader's website.
The article includes a look back at a rather rough year, a year that will be remembered more for its deaths than its music. We lost a lot of heroes in 2016, and the wounds are still very much open for a lot of us.
The article also includes my list of favorite albums as well as my favorite live shows from 2016, along with a crapload of photos. Take a look.
And while you're remember 2016, you might as ell ahead and enter the drawing for a copy of Lazy-i Best of 2016 Comp CD.
The collection includes my favorite indie tunes I've come across throughout last year as part of my tireless work as a music critic for Lazy-i. Among those represented: The Faint, Oh Pep!, Mitski, Quilt, Low, Big Thief, Father John Misty and lots more. The full track listing is here, or take a listen if you have Spotify.
Entering to win a CD copy is super simple: 1. Send an email with your mailing address to tim.mcmahan@gmail.com, or 2) Write a comment on one of my Lazy-i related posts in Facebook, or 3) Retweet a Lazy-i tweet. You also can enter by sending me a direct message in Facebook or Twitter. Hurry, contest deadline is midnight Jan. 9.
* * *
Reception at Lazy-i central will be spotty this week as I'm off to Las Vegas for the Consumer Electronics Show (CES). I may or may not update the ol' blog. I'm considering posting photos and info about cool music-related gadgets that I find on the show floor, or maybe I won't. Best bet is to check back either way…
* * *
Read Tim McMahan's blog daily at Lazy-i.com — an online music magazine that includes feature interviews, reviews and news. The focus is on the national indie music scene with a special emphasis on the best original bands in the Omaha area. Copyright © 2016 Tim McMahan. All rights reserved.
No Comments »
No comments yet.
RSS feed for comments on this post. TrackBack URL
Leave a comment