by Tim McMahan, Lazy-i.com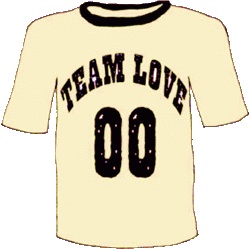 So what's going on at Team Love Records, the label started by Conor Oberst and Nate Krenkel whose roster has included Jenny Lewis and the Watson Twins, Craig Wedren, Dave Dondero and Berg Sans Nipple? When it was announced that Nik Freitas' new album, Sunday Night Underwater, was going to be released on a different label (Freitas has been with Team Love since 2008's Sun Down) eyebrows were raised in suspicion. Than word began going 'round that the new Tilly and the Wall CD also may be released on a different label. Tilly's Wild Like Children is TL01 — the first release on Team Love back on June 29, 2004.
So had the ever-decaying music industry finally dragged yet another label down? Not at all, said Team Love label exec Matt Maginn.
"Due to the economy and a decline in sales in the industry Team Love has decided to significantly reduce its number of releases and new signings," Maginn said. "The plan since late last summer has been to slow down and conserve cash in an effort to be able to do our usual proper promotion for whatever we release. So basically keep the promotion the same but just much fewer releases.  Our current roster gets priority and of course since they were our first release Tilly is at the top of that list.  With Freitas it was a matter of timing.  He was moving forward at a time when we were just pulling back the reins on expenses so it was best for him to stay on his schedule."
Maginn said the label has released three records and a documentary in the last 10 months, including new albums by Berg Sans Nipple, Dave Dondero, and Refried Ice Cream.
"There was sort of this initial 'The sky is falling' reaction to our financial crunch last year," Maginn said, "but the plan we have put in place seems to be working and we plan to continue releasing music and maybe even more documentaries, too."
Maginn added that Team Love would love to release the new Tilly record once it is completed, "but as always, we only do one-record contracts so it is up to them to decide what is the best fit for their record," he said.
Since I had Maginn's attention, I asked what he thought about moving to a vinyl-only w/download format — i.e., no CDs. A few touring bands have told me that their fans only request vinyl on the road, and I must admit that I'm also a sucker for vinyl when it's available.
"I like the digital and vinyl avenue, but it is a little tricky," Maginn said. "We sell a ton of vinyl at shows but (as part of) total sales it only accounts for about 20 percent when you take in digital and physical CDs at stores, etc. Vinyl is the best but the problem for labels and bands is that there is very little profit in them.  You basically have to sell 80 percent of the product before you can break even. Vinyl costs five to eight times as much as CDs, depending on quality and packaging."
* * *
Maginn, btw, also plays bass in Cursive, as you're all aware. And it just so happens that the biggest news so far of this year's festival season is that Cursive drummer Clint Schnase will return to the band to perform for one night only — during the MAHA Music Festival Aug. 13. Schnase will talk about his return to Cursive here at Lazy-i Friday.
* * *
Tonight at The Waiting Room it's a free show featuring Lonely Estates, Brad Hoshaw, Moscow Mule and Clock Ticks Late. A five-piece, Lonely Estates currently is recording an album with revered local producer A.J. Mogis. Worth checking out, especially at that price. 9 p.m.
* * *
Tomorrow, an up-close-and-personal look at Love Drunk Studio.
* * *
Read Tim McMahan's blog daily at Lazy-i.com — an online music magazine that includes feature interviews, reviews and news. The focus is on the national indie music scene with a special emphasis on the best original bands in the Omaha area. Copyright © 2011 Tim McMahan. All rights reserved.
No Comments »
No comments yet.
RSS feed for comments on this post. TrackBack URL
Leave a comment